CEO & FOUNDER GABRIELLA GREMI HALIM (GABY)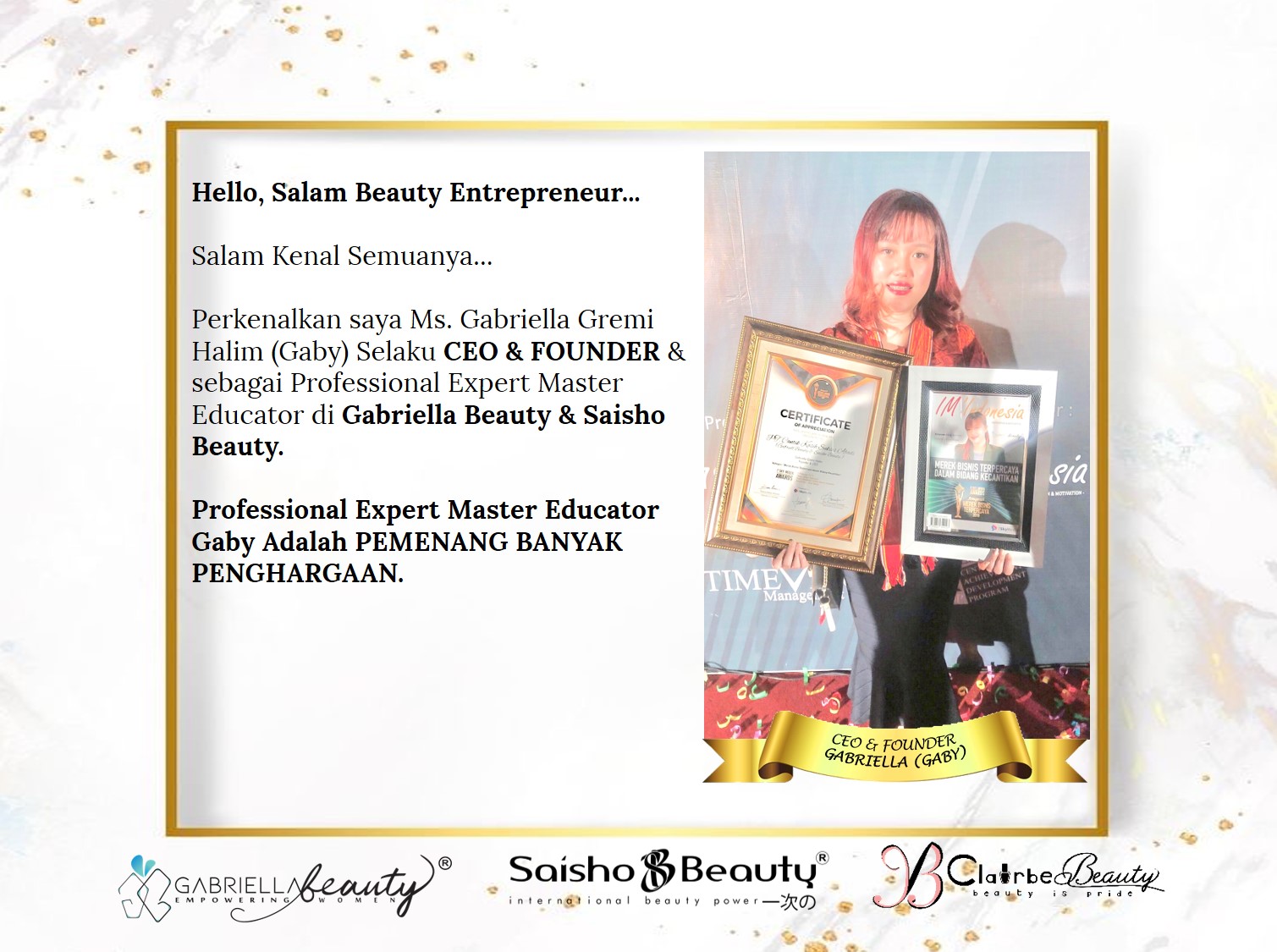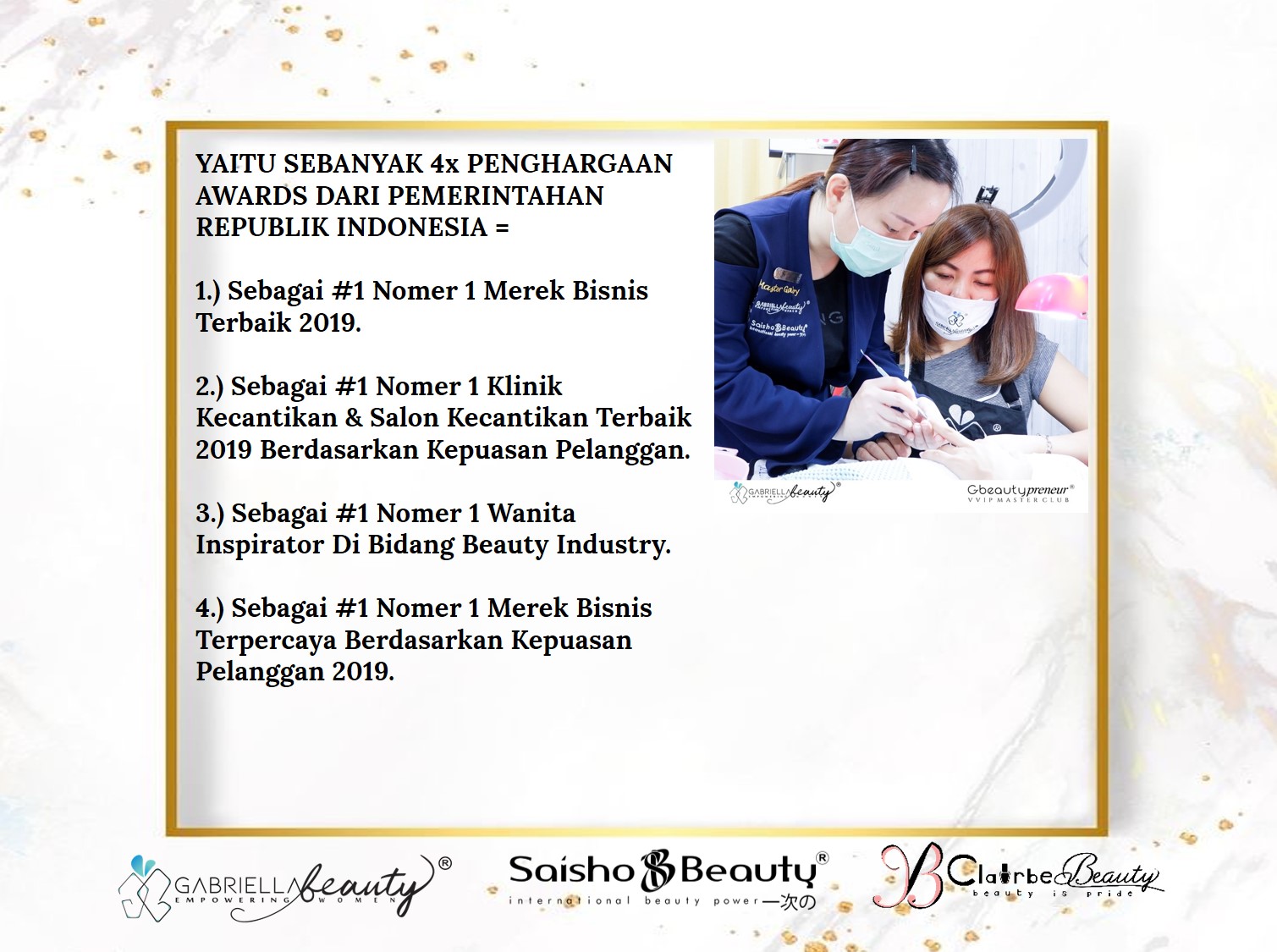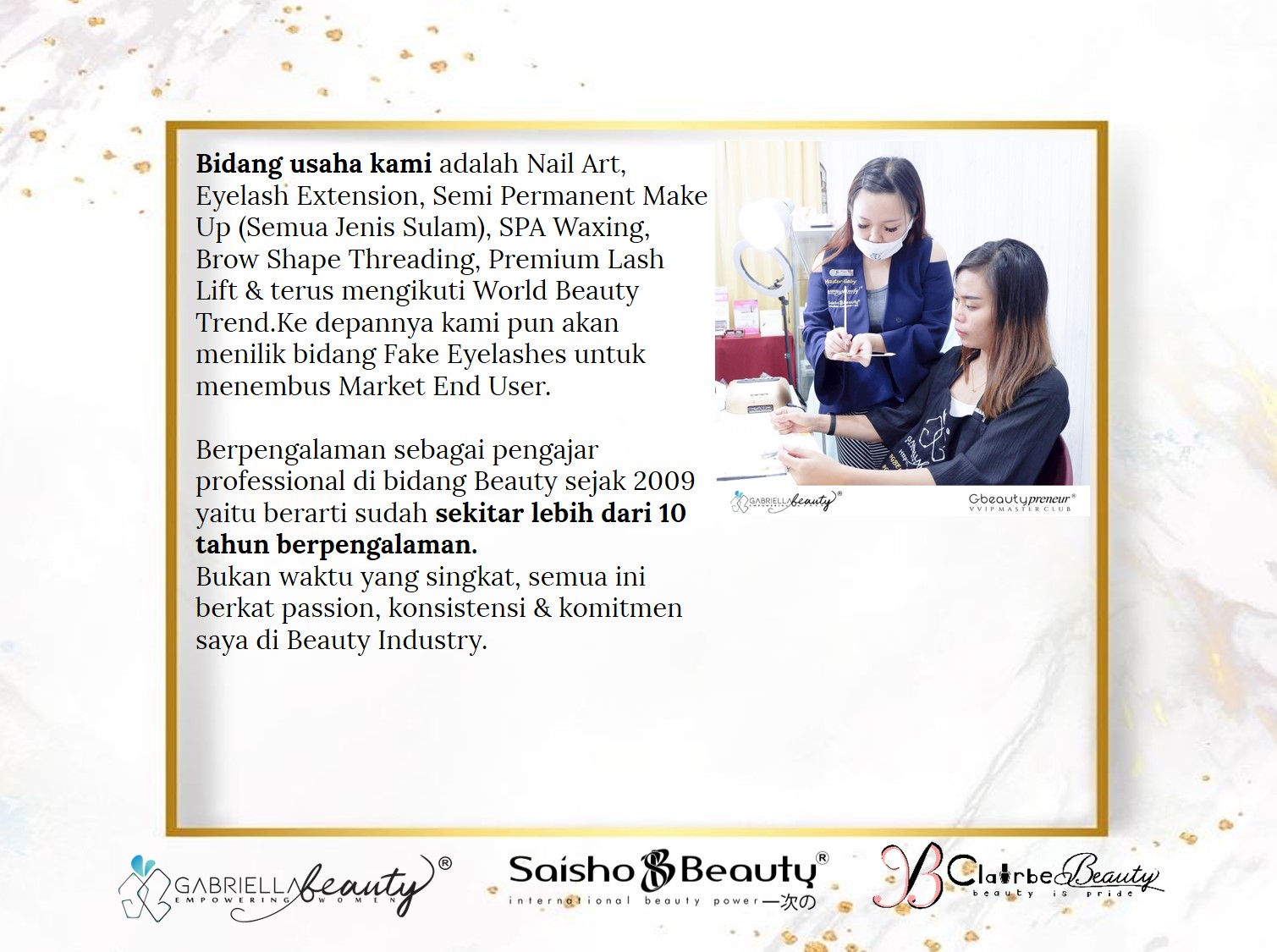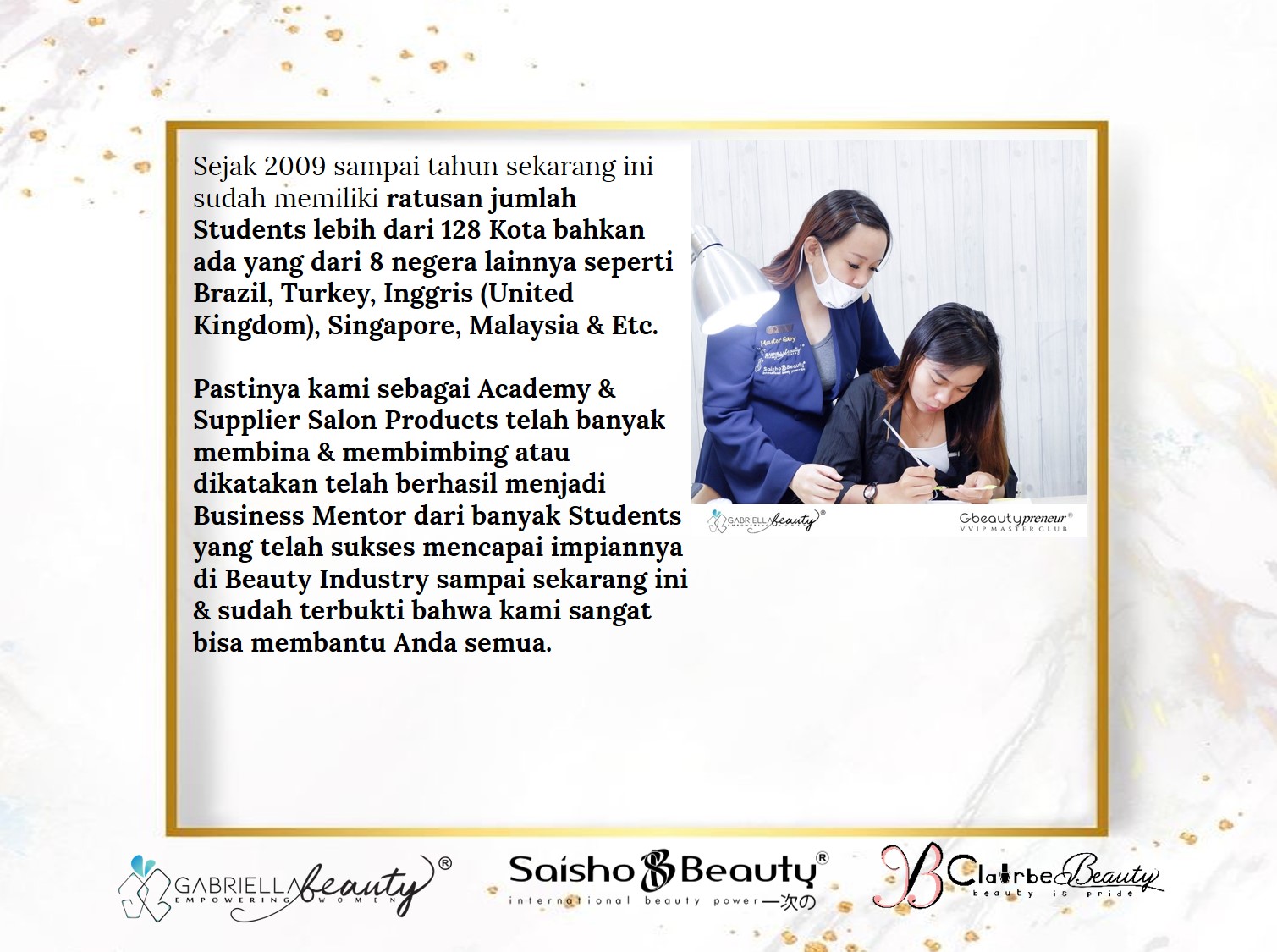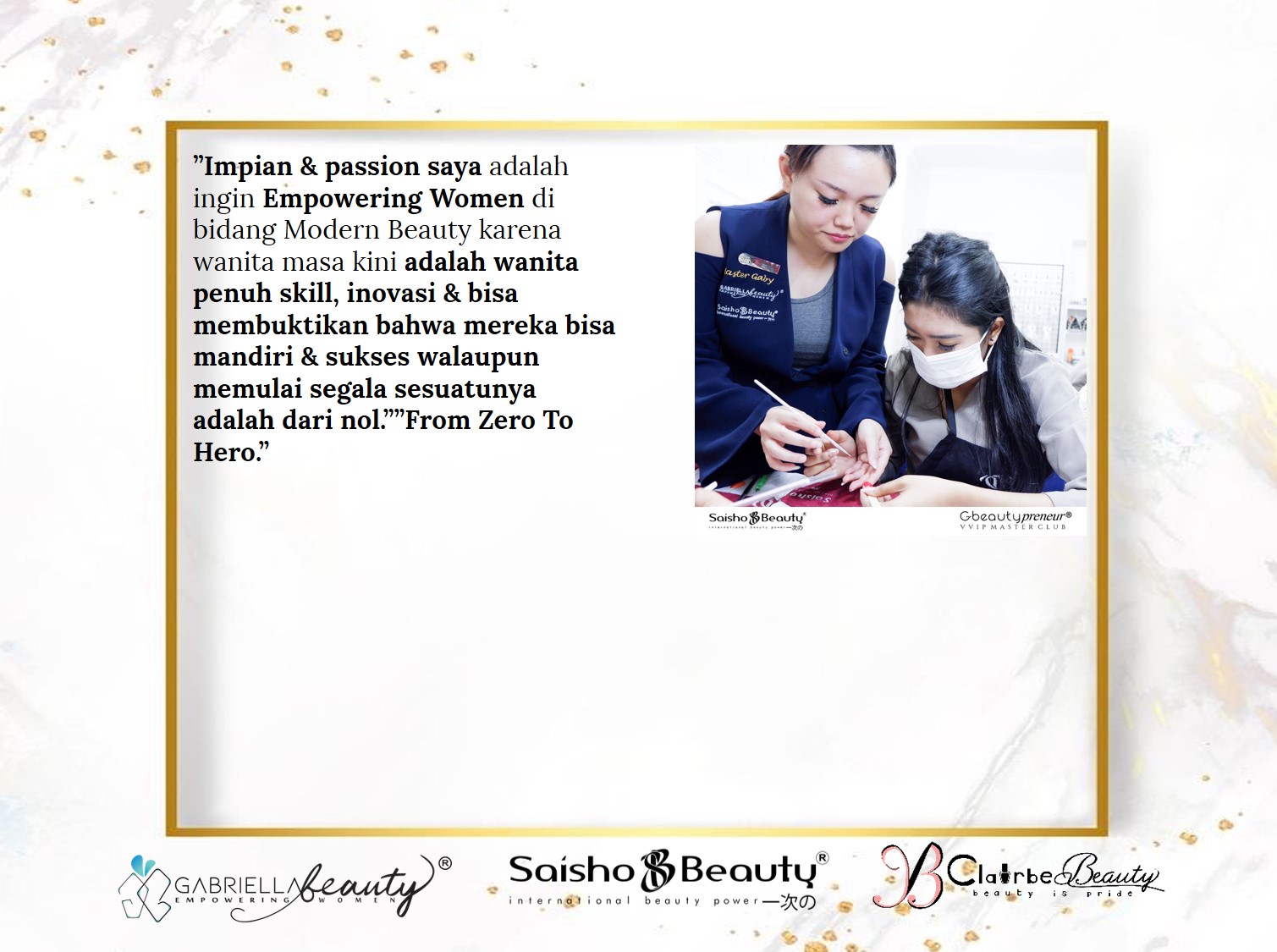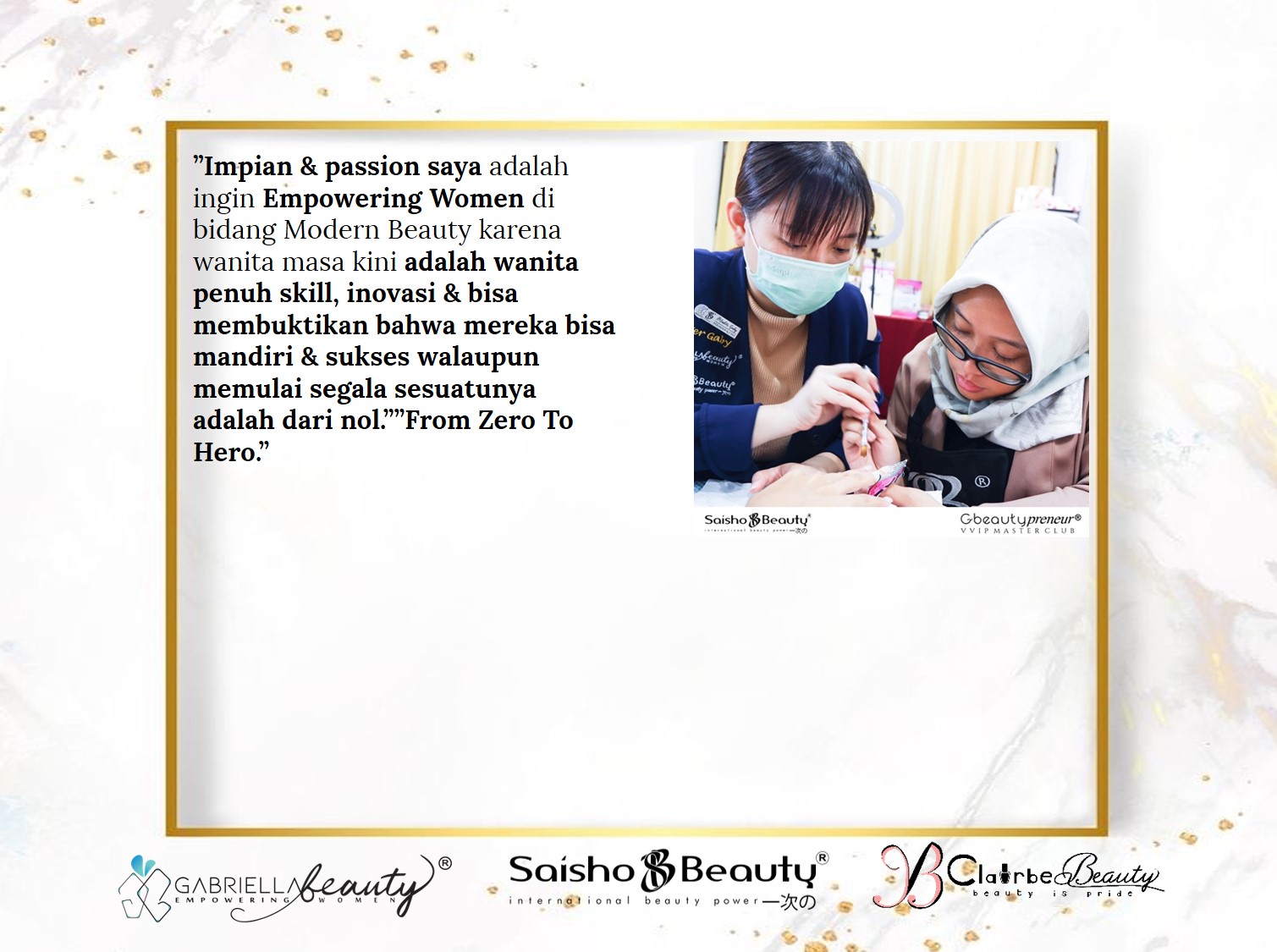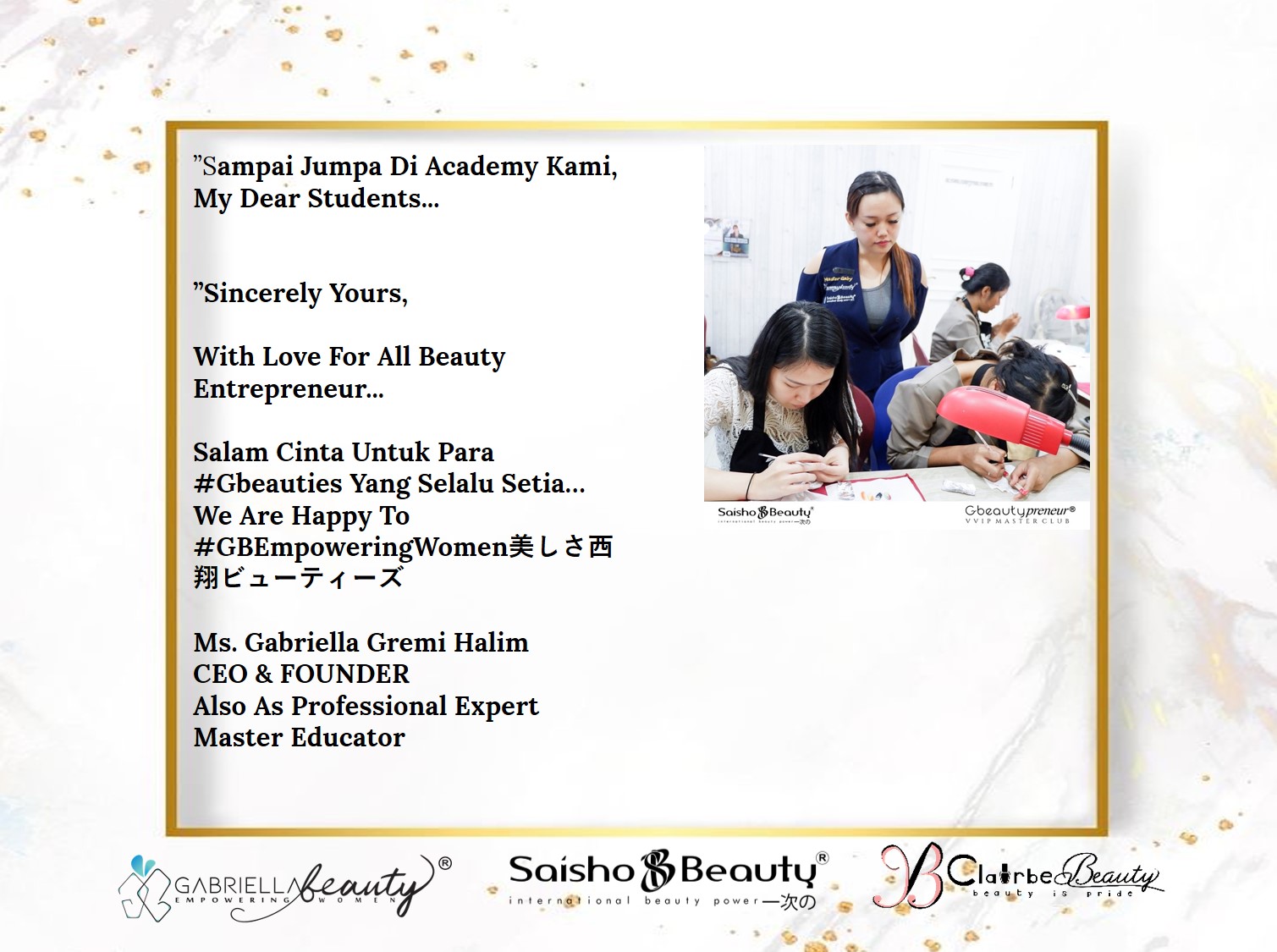 Hello, Salam Beauty Entrepreneur...
Salam Kenal Semuanya...
Perkenalkan saya Ms. Gabriella Gremi Halim (Gaby) Selaku CEO & FOUNDER & sebagai Professional Expert Master Educator di Gabriella Beauty & Saisho Beauty.
Professional Expert Master Educator Gaby Adalah PEMENANG BANYAK PENGHARGAAN.
YAITU SEBANYAK 4x PENGHARGAAN AWARDS DARI PEMERINTAHAN REPUBLIK INDONESIA =
1.) Sebagai #1 Nomer 1 Merek Bisnis Terbaik 2019.
2.) Sebagai #1 Nomer 1 Klinik Kecantikan & Salon Kecantikan Terbaik 2019 Berdasarkan Kepuasan Pelanggan.
3.) Sebagai #1 Nomer 1 Wanita Inspirator Di Bidang Beauty Industry.
4.) Sebagai #1 Nomer 1 Merek Bisnis Terpercaya Berdasarkan Kepuasan Pelanggan 2019.
Bidang usaha kami adalah Nail Art, Eyelash Extension, Semi Permanent Make Up (Semua Jenis Sulam), SPA Waxing, Brow Shape Threading, Premium Lash Lift & terus mengikuti World Beauty Trend.
Ke depannya kami pun akan menilik bidang Fake Eyelashes untuk menembus Market End User.
Berpengalaman sebagai pengajar professional di bidang Beauty sejak 2009 yaitu berarti sudah sekitar lebih dari 10 tahun berpengalaman.
Bukan waktu yang singkat, semua ini berkat passion, konsistensi & komitmen saya di Beauty Industry.
Sejak 2009 sampai tahun sekarang ini sudah memiliki ratusan jumlah Students lebih dari 128 Kota bahkan ada yang dari 8 negera lainnya seperti Brazil, Turkey, Inggris (United Kingdom), Singapore, Malaysia & Etc.
Pastinya kami sebagai Academy & Supplier Salon Products telah banyak membina & membimbing atau dikatakan telah berhasil menjadi Business Mentor dari banyak Students yang telah sukses mencapai impiannya di Beauty Industry sampai sekarang ini & sudah terbukti bahwa kami sangat bisa membantu Anda semua.
"Impian & passion saya adalah ingin Empowering Women di bidang Modern Beauty karena wanita masa kini adalah wanita penuh skill, inovasi & bisa membuktikan bahwa mereka bisa mandiri & sukses walaupun memulai segala sesuatunya adalah dari nol."
"From Zero To Hero."
"Sampai Jumpa Di Academy Kami, My Dear Students..."
Sincerely Yours,
With Love For All Beauty Entrepreneur...
Salam Cinta Untuk Para #Gbeauties Yang Selalu Setia…
We Are Happy To
#GBEmpoweringWomen
美しさ
西翔ビューティーズ
Ms. Gabriella Gremi Halim
CEO & FOUNDER
Also As Professional Expert Master Educator