ACADEMY ACRYLIC NAILS EXTENSION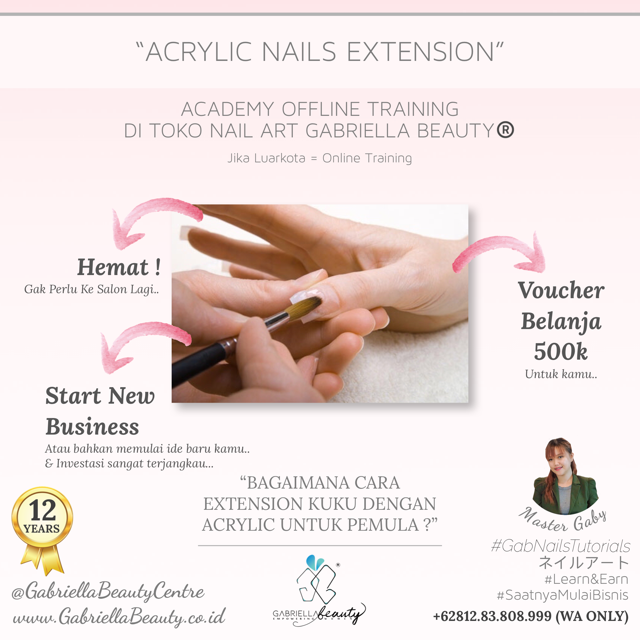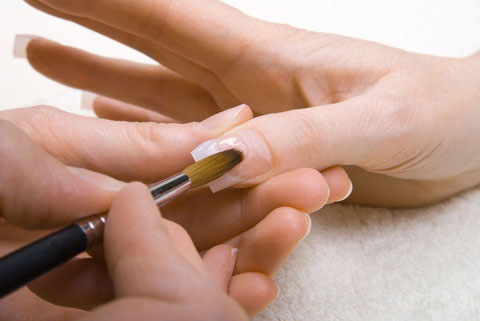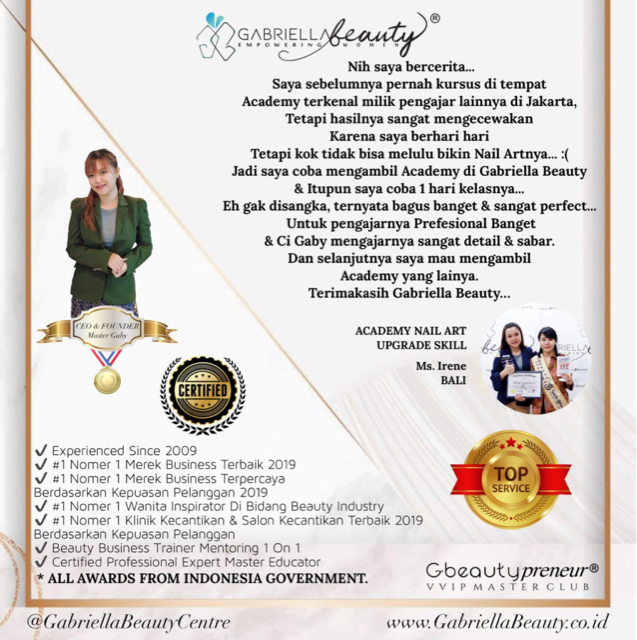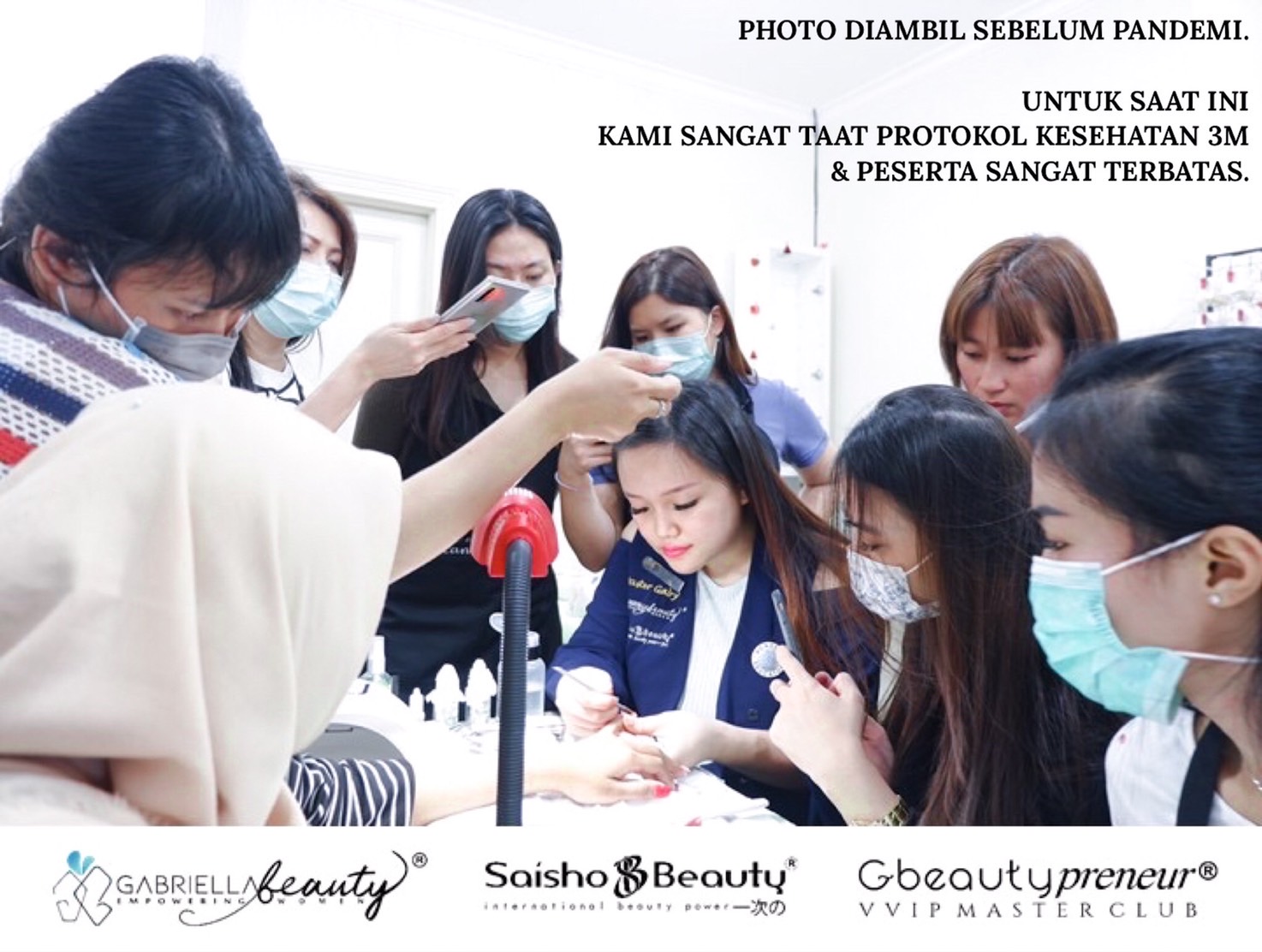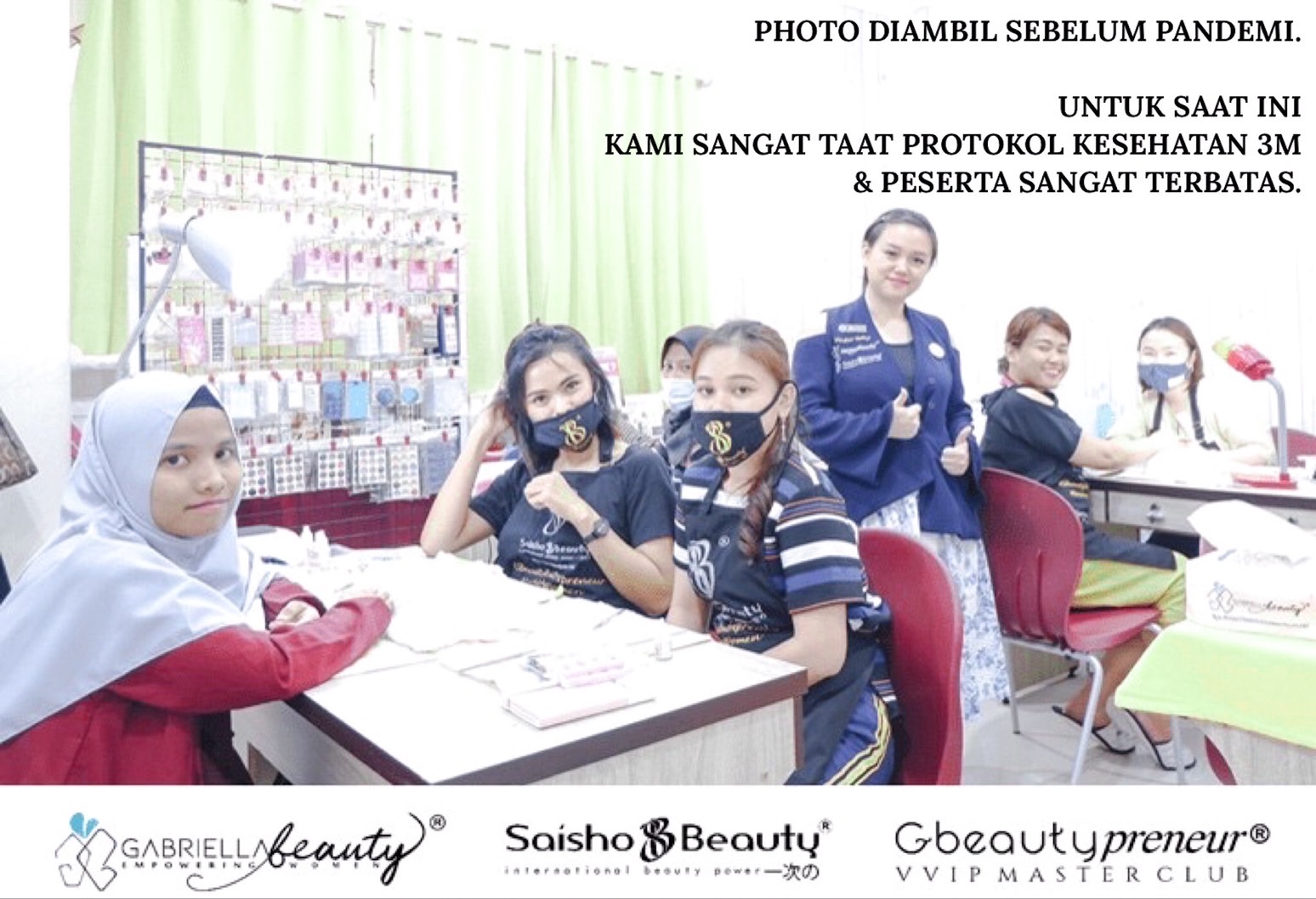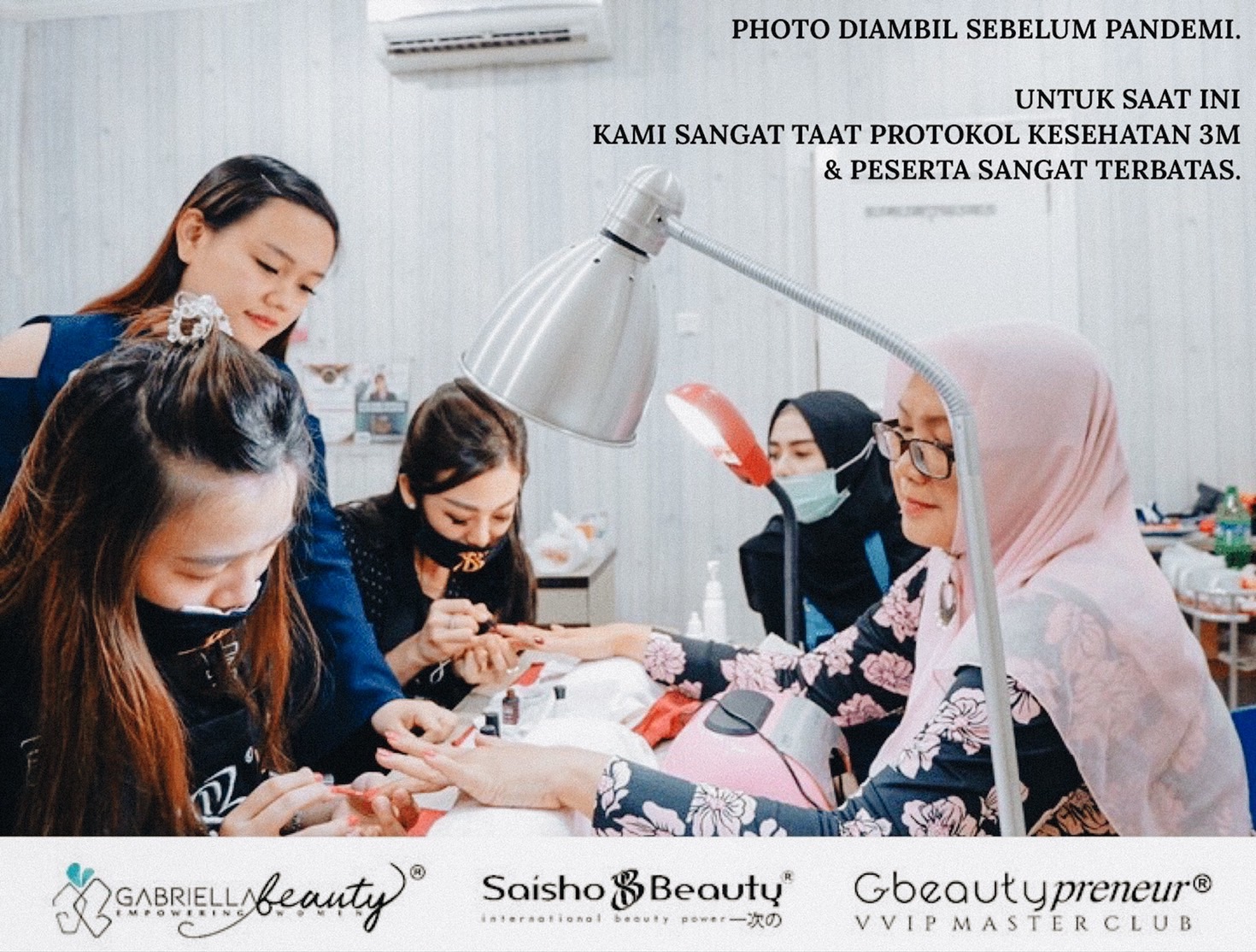 ACADEMY ACRYLIC NAILS EXTENSION
• Date : Saturday/Sabtu, 20 November 2021
* Request Private Class?
Or Request for Another Schedule?
Join us!
• Time : Pk. 12.30-16.00
• Place :
RUKO Citra Garden 1 Extension
Block AA 1/No. 10 A.
RT. 001/RW. 15
KALIDERES
CENGKARENG
JAKARTA BARAT
11480
(Cari Di Peta Waze/Google = TIKI CITRA EXT 1).*
Posisi Ruko = Di samping TIKI CITRA EXT 1.
CARI DI WAZE/GOOGLE MAPS = GABRIELLA BEAUTY (CABANG CENGKARENG)
• Size Capacity : 5 Persons
🏆 Certified Professional Expert Master Educator = Master Gaby.
(Berpengalaman Lebih Dari 12 Tahun Pengalaman).
_____________
• Introduction :
Professional One Day Workshop, you will learn how to create a Sculpture Acrylic Nails Extension in clear/pink powder.
This is available to complete beginners as well as established Nail Artist.
It is also a great Workshop to add skills you may already have learned for example Gel Extensions & Gel Polish as the two subjects compliment each other well.
This course will cover sculpturing Acrylic nails freehand using special techniques.
This makes it easier to create shapes & extend shorter nails & this is very popular & a sought after treatment by the Customers.
When you attend this course you will learn the new techniques the clients are asking for!
The Nails Industry is extremely fast moving & Gateway Workshops works hard to bring the most up to date techniques to learners, allowing you to offer clients the best treatments PERFECT result in the Nails Industry.
So, what are you waiting for?Join us!!! 😄
_____________
• Learning :
Professional One Day Academy.
Anda akan belajar bagaimana technique yang tepat untuk menciptakan Sculpture Acrylic Nails Extension dengan sempurna & tahan lama hingga 30 Hari.
_____________
• Last Date Of Registration : H-1
• Investment :
Normal = RP. 3.988.000,-
AFTER DISCOUNT = RP. 1.588.000,-
• Include :
FREE 1 SET PRODUCTS
(Worth/Senilai Rp. 1.000.000,-)
Rent Tools
Meal & Drink
Mini Certificate GABRIELLA BEAUTY®
Voucher Belanja Senilai RP. 200.000,-
• Participant Preparation (To Bring) :
Just bring your passion, Dear!
☎️ FEEL FREE TO CONTACT US!
🚧 FREE CONSULTATION
_____________

+6281283808999


🙋🏻‍️
Gabriella Beauty®️
Chat WhatsApp Only
Fast Responses 1 x 24 Hours
🙋🏻‍❤️
🌐 Worldwide Shipping
_____________
Follow Us For More Inspirations =
& Follow Us...
🙋🏻‍ Just Click =
Https://www.instagram.com/gabriellabeautycentre/?hl=en
_____________
Cheers & Loveee, ❤✨
Team Managements, 🙋🏻‍
GABRIELLA BEAUTY®️
SAISHO BEAUTY®️
Horray For #BeautyPreneur...
✨
BeautyPreneur Cheers For Life...
✨
💋 Master Gaby 💋